Every summer growing up I had this idea that I was going to diet myself down to a size zero. My finish line was a skinner, happier me. I started walking in the mornings and eating healthy food every first Monday of the week. It always lasted until around 7 pm when everything broke and I just felt deprived and quite honestly miserable for not being allowed to eat sugar. In my head, I made up all these plans of how I was going to get back on track and finish my diet but I never did. When I gave up this is what I said to myself; I tried that and it didn't work and I went back to the couch feeling sorry for myself stuffing my mouth with chocolate and crisps.
In my mind, I had made up these pictures of myself being hardcore and running every morning and eating a restricted diet. False optimism and it is when you use positive thinking without actually trusting that you can achieve a goal. I trust my ability to accomplish the goal but lack the trust in myself and that made me fail every time.
I like to think that I hit the pause button and that I can just restart everything when I am ready but motivation can only come when you take action, it doesn't hit you in the head while you are dreaming. It is about making bold choices, being determined and choosing to get up every time we fail. They say seeing is believing, but the reality is we need to believe it first in our minds in order to be able to see it with our eyes.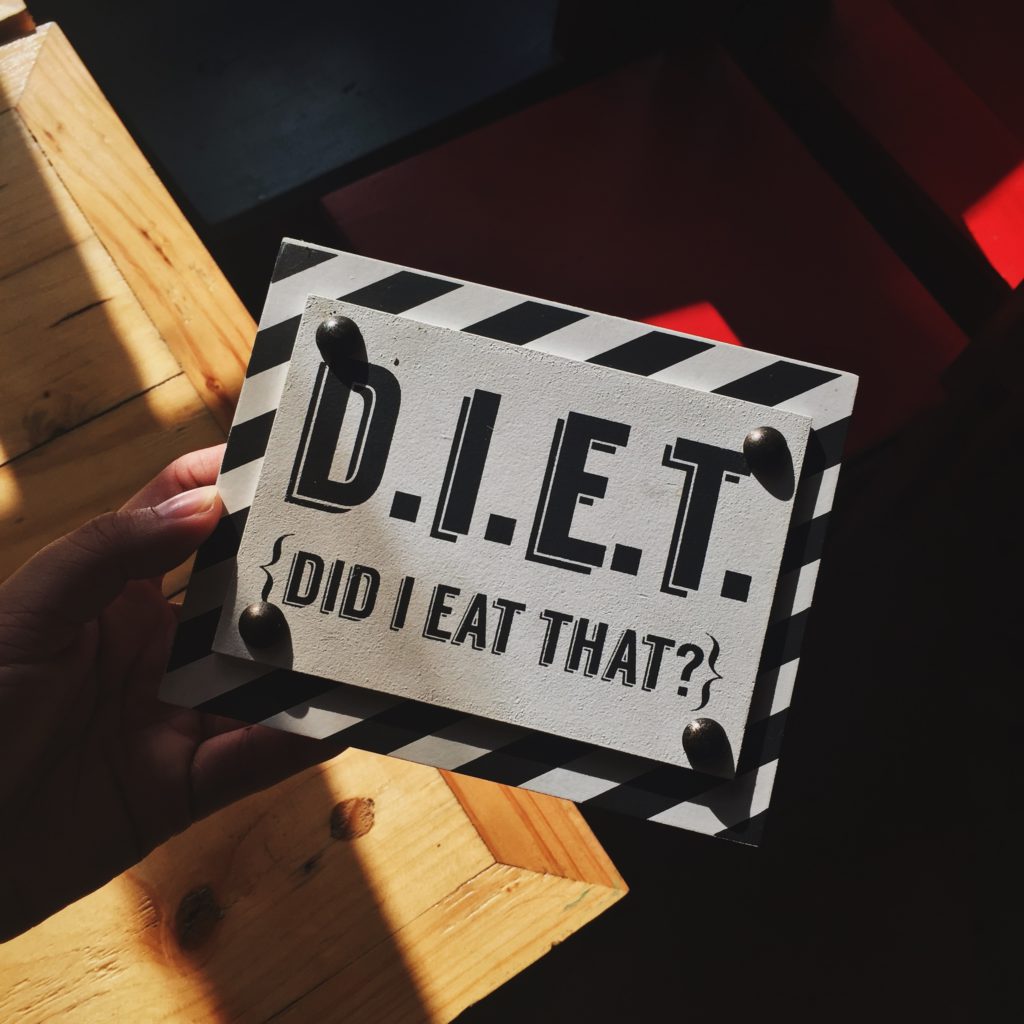 I know what I have to do but why is it so hard to do it?
The truth is I feel good when I am eating healthy and exercising. I feel my body vibrate and my cells actually feel alive. So why do I always stop and why do I go back to my old habits?
Fear usually stops me when I am going through a change and I feel like I am going to be missing out on something if I change my lifestyle. That is why it is so important to have the right kind of mindset before you start a new diet. It took me a while to learn this and I still struggle with it a lot, but the bottom line is you have to keep the right attitude.
The mindset of a winner is to never give up. Realistically you should prepare yourself for hard times and know that there will be struggles. Shit will hit the fan. The key to success is to know what to do when that happens. Decide how to react from that in order to move forward. That is the only way to get to the finish line.
Today my focus is on eating good food that gives my body the right kind of nutrients and energy. I exercise to feel good and to get those nice endorphins running through my body. My goal is to have a strong body which in return gives me a healthy mind. I eat a plant-based diet and my exercise routine is a combination of yoga, cardio, and muscle-toning. To my younger self who was so obsessed with the numbers, I would say start with loving yourself and everything will get easier.
---
Have you tried to diet and did you succeed? I would love to hear your stories about weight-loss, your relationship with food and exercise. How did you overcome difficult times? Leave a comment below if you feel like sharing.
Love,
Pet